Lady luck is on my side tonight! Well, every night actually. Somehow I have a strange knack for either fluking wins or just plain doing the right thing by accident. Although now I've said that everything is gunna go to shit.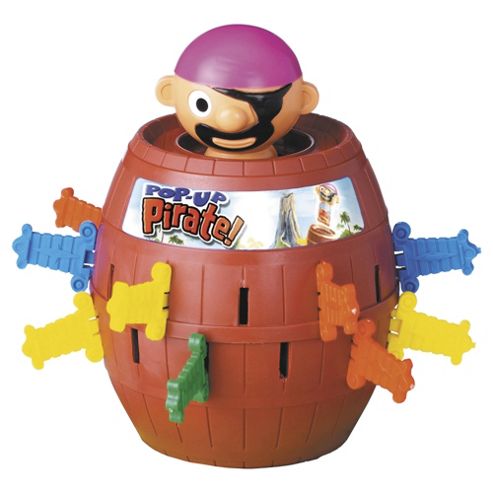 Oh pop up pirate! What a laugh! A 'barrel of fun' you could say! Or at least the advert did…
Are you a lilly livered landlubber? No? Thought not. Not even sure what that means. I think it roughly translates from pirate to 'A scared person who happens to live on the land and is not the seafaring type.'
Impressive that they got that down to 4 words that all alliterate then really.
Pop up pirate is an example of a game that is PURE LUCK. This is not good, I mean at least it's short I guess. Luck based games maybe great for kids, but allowing your players to have some semblance of control over the outcome makes the game endlessly better. If you want something like pop up pirate just get jenga instead…
Also, and I'm gunna spoil your childhood here if you played Pop Up Pirate at all, but it was ALWAYS THE SAME HOLE THAT POPPED HIM UP.
I know right, absolute dream smasher…
This article is about luck in games though, and why some luck is important, but not all luck.
Reason luck is important 1: It keeps everyone in the game… usually
You know, unless you get like, SUPER unlucky and either everyone ends up going for you. That or your rolls are terrible all the time, or someone you play with cheats, or someone you play with weighted the dice so that when you roll it it always lands on a 1, or someone you play with blackmailed you into playing badly and loosing on purpose. Either way, some luck is good.
It helps people who suck at strategy to actually stay competetive! Like me!
Reason luck is important 2: It keeps people on their toes
Y'know, their metaphorical toes, not their real ones. That would be weird. Just a whole bunch of people eagerly anticipating a dice roll huddled closely round a table and also standing up… on their toes. Painful for the toes really, that'll play out badly in the long run…
Reason luck is important 3: It adds an element of humanity
And we could all do with feeling a bit more human I'm sure. It's like when in Catan I can never get any 2 for 1 trades done, because my bartering skills in real life ACTUALLY suck. Or when no matter how high my charisma is I still can't succeed on a skill check for persuading that giant dragon to just chill, let's sit down, have a heart to heart and reminisce on past times, when we used to bicker and fight all the time and how he always wanted to burn me and my friends to a crisp, oh the fun we had and how we laugh about it now, hahaha!
Planning for randomness is an important and very human part of luck in games though. I mean hell, even Puerto Rico has SOME element of luck to it, and that game is strict AS…
Luck of the draw
GET IT. BECAUSE IT'S LIKE DRAWING CARDS AS WELL AS DRAWING A GUN. I'M SOOOO FUNNY.
Yeah it's a bad joke I know. A play on words if you will. Will you? I hope you will. Please will! Will!
Luck is important though. Like how lucky I am that all of you wonderful thousands (read: 3) people are reading this, oh how lucky!
Yours luckily,
Chris